Why Use a Custom Logon on WP Login Page?
Its function is to enable the user to log in. On a typical login screen, you will see a username and password field, as well as the signup or forgot your password options. This is where the login logo comes in; it allows you to improve the look of your login page and make your logo the focal point of the page.
Remember that a logo isn't just for logging in and that it should be one of the first things you design for your website. The logo will make your website feel more personal, and visitors will appreciate a personal website if it is good. Most people believe that "A picture is worth a thousand words," but because a logo represents your brand, it should be worth two thousand words.
Write the following code in your functions.php file to upload the custom logo on WP Login Page.
Login to your WordPress Admin Dashboard.
Now from the left sidebar go to Appearance -> Theme Editor.
Go to the functions.php file and write the below code.
//Custom Logo on WP Login Page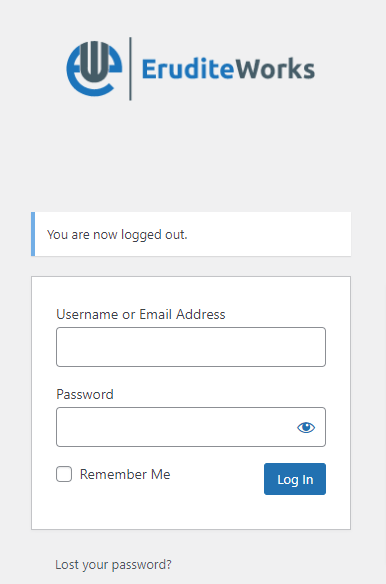 Once you add one of these scripts into your WordPress, you will successfully Add the Custom logo on WordPress Login Page.
Now, try uploading your own Custom logo on WP Login Page.
Also, You can install and activate the plugin.
Login to your WordPress Admin Dashboard.
Now from the left sidebar go to Plugins -> Add New Plugin
Search the Change WordPress Login Logo.
Install and Activate that Plugin
Or, You can Download from that and Upload the file. Click Here to Download Plugin !!
After Activating that, Go to Settings -> Login Logo.
In there you can upload your custom logo, set height and width of the logo and can finally show you logo on the login page.