CRM at a glance
Customer relationship management is a set of all activities, strategies, and technologies companies use to improvise processes internally and maintain interactions with their current and potential customers to achieve customer loyalty. CRM helps business to build a relationship with customers, which in turn results in customer retention and also provides strategy and insights that result in increased profits.
CRM software used by organizations to manage their sales, marketing, and customer service efforts typically offers these features.
Lead management
Lead scoring
Sales activity monitoring
Email tracking
Automatic updates to contact records
Notifications and calendar alerts
The CRM tool market is full of great software's covering an extensive list of capabilities. Let us talk about two widely popular CRM software – Salesforce and HubSpot.
Salesforce CRM
Salesforce is a cloud computing SaaS-based company that deals in customer relationship management. Its CRM software allows businesses to use cloud technology to better connect with customers, partners, and potential customers.
With its cloud-first approach, Salesforce is more than just a single CRM tool. It's a collection of tools and services designed to serve various functions.
Salesforce offers majorly six types of clouds – Sales cloud, Marketing cloud, Commerce cloud, Service cloud, Experience Cloud, and Analytics cloud.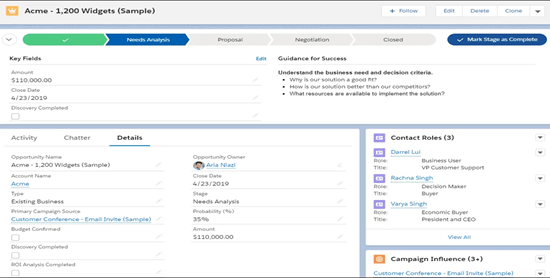 HubSpot CRM
HubSpot is an inbound marketing and sales platform. Inbound marketing help companies attract visitors, convert leads and close them by creating content for targeted customers. It is a popular free CRM solution.
HubSpot is intuitive and affordable. If your business is small and you don't know where to begin, HubSpot CRM would be an ideal fit. HubSpot also allows upgrading to premium products based on the features required.
Being free and straightforward, HubSpot CRM is built for teams to start quickly without making any changes to their flow.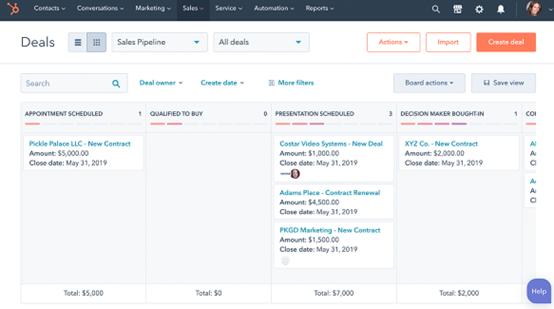 Salesforce & HubSpot – 30,000 feet overview:
Sounds exciting, right? But which one fits in? To answer these, let's explore the core differences between Salesforce and HubSpot.
To derive a conclusion between the two, let's see how they are stacked up. Choosing a near-perfect tool depends on various factors. A few of the most important are listed below:
How big is your company?
What's the structure of your company?
How many users will access the CRM application?
How much do you want to spend as part of your IT investment?
Why would I need a CRM?
Out-of-the-shelf offerings in CRM product
Support for Customization
Reporting and Dashboard for analytics
Through which channel the business wants to provide support to customers
Feature comparison b/w Salesforce & HubSpot
Let's take a deep dive into the aspects which can guide us to the right decision.
Cost
HubSpot is free, and Salesforce is not. Crystal clear.
HubSpot CRM is free to use for as many users, while Salesforce offers extensive options to customize the features you need within your budget.
Salesforce charges per user per month. For the Starter edition, it is $ 25/month, and for the Professional, it's $ 75/month.
HubSpot does offer upgrade plans to opt for premium sales features based on your team's needs.
Ease of Use
HubSpot is an intuitive CRM tool. It provides good onboarding with step-by-step guidance, a more integrated dashboard, and navigation.
Salesforce provides excellent onboarding with a demo-like account. It has a more structured setup.
Saying so, Ease of use is more of a subjective term. It ultimately depends on the person's know-how.
Implementation
Implementation of CRM software requires – installation, configuration, customization, integrations, testing, training, and adjustments.
For all greenfield projects, Salesforce & HubSpot provides excellent onboarding features. HubSpot is more straightforward than Salesforce for small enterprises. For medium and large enterprises with diverse sales, marketing, and customer service, Salesforce is a sure-shot leader because of its extensive features and capabilities.
But when it comes to migration from other CRM tools, HubSpot may lack in capabilities to cater the needs of medium and large enterprises. Migration of CRM from one vendor to another involves:
Lead & Customer data cleaning or formatting
Custom integrations with software or processes
Building new features
Advanced training or consultant support
Salesforce, with its robust advanced features spanning across sales, marketing, and type of cloud support, is the clear leader for businesses targeting revenue and growth.
Customization
Customization in CRM means:
Can we change it?
How easy is it to change?
Salesforce is a highly customizable CRM tool. There are dedicated Salesforce developers in the industry working to build custom functions, apps, LWC components, and integrations in the cloud sandbox environment.
HubSpot is also customizable to business processes and uses Open APIs to build custom functions. But using Open API leads means requiring developers to develop custom integrations.
So, who wins? Well, it all drills down to the amount of customization required. If you are looking for a product that makes it easy to adjust your business, HubSpot is the answer. But if you are looking for customization with extensive scope, Salesforce wins.
Integration
Plugging data between different software and applications to bring all of our data into a single location is necessary for business decisions. Integration also helps to provide more features and options while using the software.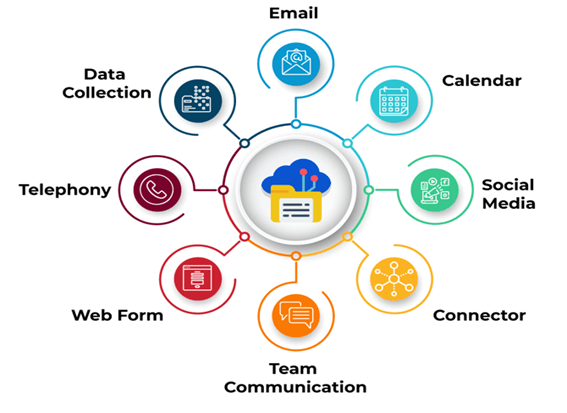 HubSpot provides out-of-the-box integrations with Salesforce, WordPress, Zapier, and others. Developers can build external and custom integrations using Open API.
The Salesforce ecosystem comprises thousands of products and integrations by leveraging AppExchange. Salesforce offers three types of integration architecture:
Point-to-point integration
Hub-and-spoke integration
Enterprise Service Bus integration (ESB)
If you are looking for higher productivity, enabling automation, modernizing data for decision-making, complex integrations, and 360-degree customer view, Salesforce is a clear winner.
Support
Salesforce provides limited support for licensed products. Free features as part of the enterprise license include:
Read-only document for knowledge base content
How-to guides
Forums
e-School courses
Certification Tracks (Trailhead)
HubSpot offers many freely available forms of support. Featured offered are:
Training courses & certification tracks
Blogs, eBooks, and White Papers
User Documentation
24/7 Live customer support (premium)
Community forums
The HubSpot Academy
HubSpot is the clear winner when it comes to supporting. Although it all again depends on the skillset and talent present in your team.
Product Comparison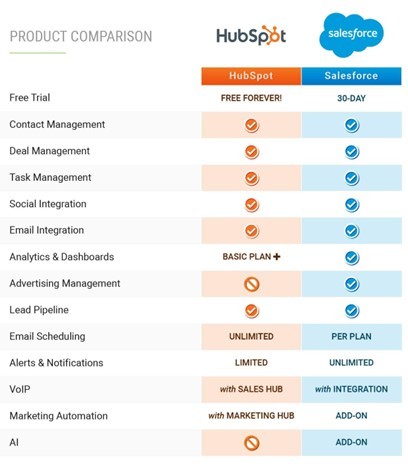 Conclusion
Finding the best CRM tool for your business could be a tricky choice. Evaluate factors like the size of the company, structure, the number of users, the amount you want to spend, and the need for integrations, data, and analytics to finalize a tool.
Based on the above stats, HubSpot could be a good choice for a "lightweight" CRM.
And Salesforce can excel if you plan to create an enterprise-wide ecosystem in one platform, with ample opportunity for customization.
As per market trends, Salesforce is the most popular and widely adopted CRM tool for business.