Salesforce Summer Release- Key Features for Admin
The highly anticipated Salesforce Summer Release '23 has arrived, bringing a wave of exciting new features and enhancements that will revolutionize the way organizations manage their business processes and engage with customers.
These include improvements in the Lightning Experience, Einstein Search for personalized search experiences, enhanced analytics capabilities, new features in Commerce Cloud and Data Cloud, developer-focused enhancements, tailored solutions for industries, and updates for sales and service professionals.
Let's dive into the key highlights that would ease the work of Salesforce Admin and moreover, would help you in your business needs.
1. Enhance Efficiency with Bulk Quick Actions on Related Lists (Beta):
Make your users' work easier and more efficient by organizing important actions in the highlights panel and adding quick actions directly on related lists. This helps them complete tasks quickly without having to search for options or navigate to different pages.
If you have a bunch of records that need updating, you don't have to go through them one by one anymore. With the new feature, you can select multiple records(up to 100 records ) within the related list and update them all at once. No more tedious individual updates!
In the below image, the related list includes the quick action that is added (1) and users can apply the action to the records that they select (2).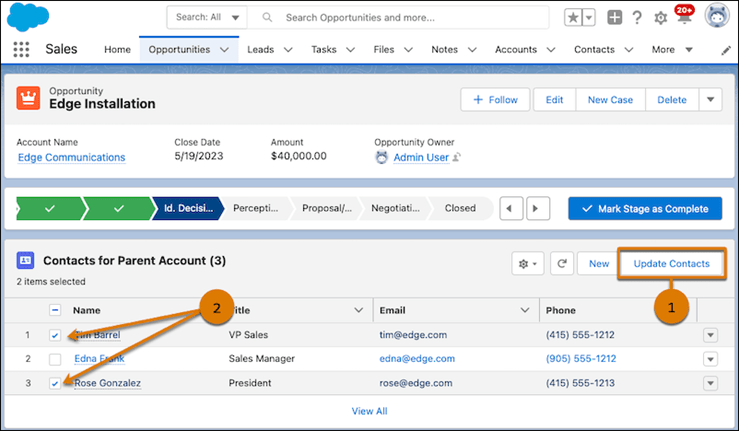 2. Clone Lightning Apps:
Imagine you want to create your own custom Lightning app in Salesforce, but you don't want to start from scratch. Well, good news! With the Clone action in the App Manager, you can streamline the entire process.
Clone Lightning Apps with Ease:

By using the Clone action, you can quickly create custom Lightning apps based on existing ones.
The Clone application wizard guides you through configuring app details, options, utility bar settings, and more.
This means you don't have to spend time building everything from the ground up.

Save Time with Quick Save:

To make things even faster, there's a Quick Save option available.
This allows you to copy the existing app's configuration as it is, skipping unnecessary steps.
It's a convenient way to replicate the setup and save valuable time.
To clone a Lightning app, follow these steps:
Go to Setup > App Manager.
Select the app that you want to clone.
Click the Clone button.
In the Clone Application wizard, configure the settings for the new app.
Click Save.
Note:
This feature is specifically designed for custom Lightning apps and doesn't apply to standard, connected, managed, community, or classic apps.

3. Save Time with Quick Save:
Salesforce has introduced a new preference setting in the Event Monitoring Settings page, giving you more control over event log files.
Now, you can decide whether you want to generate and receive these log files or not. It's all about customization and tailoring the event monitoring process to suit your needs.
Here's what you can do with this enhancement:
Visit the Event Monitoring Settings page and find the new preference setting.
Choose whether you want to generate and receive event log files based on your preferences.
This level of flexibility allows you to have greater control over monitoring activities in your Salesforce instance.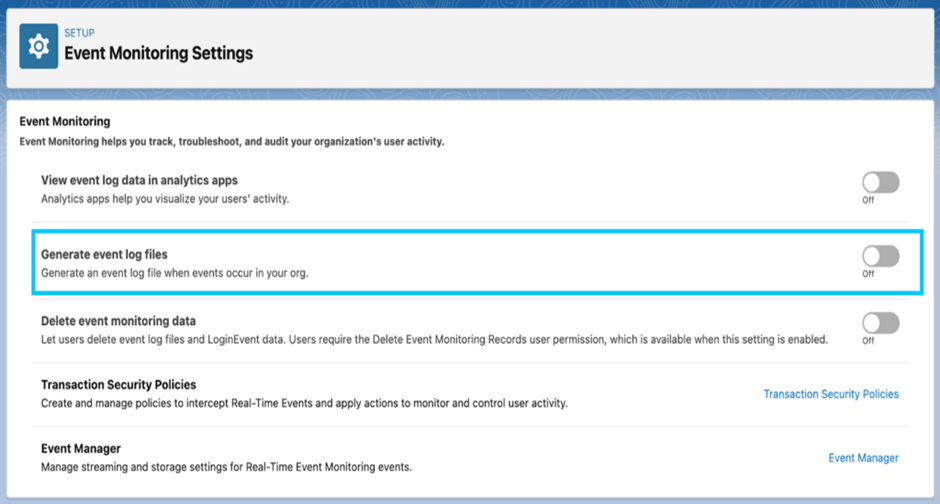 4. End of New Process Builder Creation:
Starting now, you can no longer create new Process Builders. Just like workflow rules, the option to make new Process Builders is no longer there. Unlike workflow rules, you can't make a copy of an existing Process Builder to create a new one.
However, don't worry! You can still manage and modify your existing Process Builder processes. Plus, you have the powerful Flow Builder tool at your disposal to create new automations. So, you can continue using and enhancing your current Process Builders while exploring the capabilities of Flow Builder.
Note:
You can still activate, deactivate, and edit your existing Process Builders as before. The changes only apply to creating new ones.

5. Assign Field-Level Security on Permission Sets, Not Just Profiles:
You can now set field-level security for a field on permission sets instead of profiles. This is a generally available feature, which means that it is now available for all Salesforce customers.
This update also includes an enhancement that allows you to see each permission set's object permissions for the field's object without leaving the page. This can be helpful when you are trying to determine which permission sets should have access to a particular field.
How to set?
Setup-> Quick Find box-> User Management Settings.
Enable Field-Level Security for Permission Sets During Field Creation.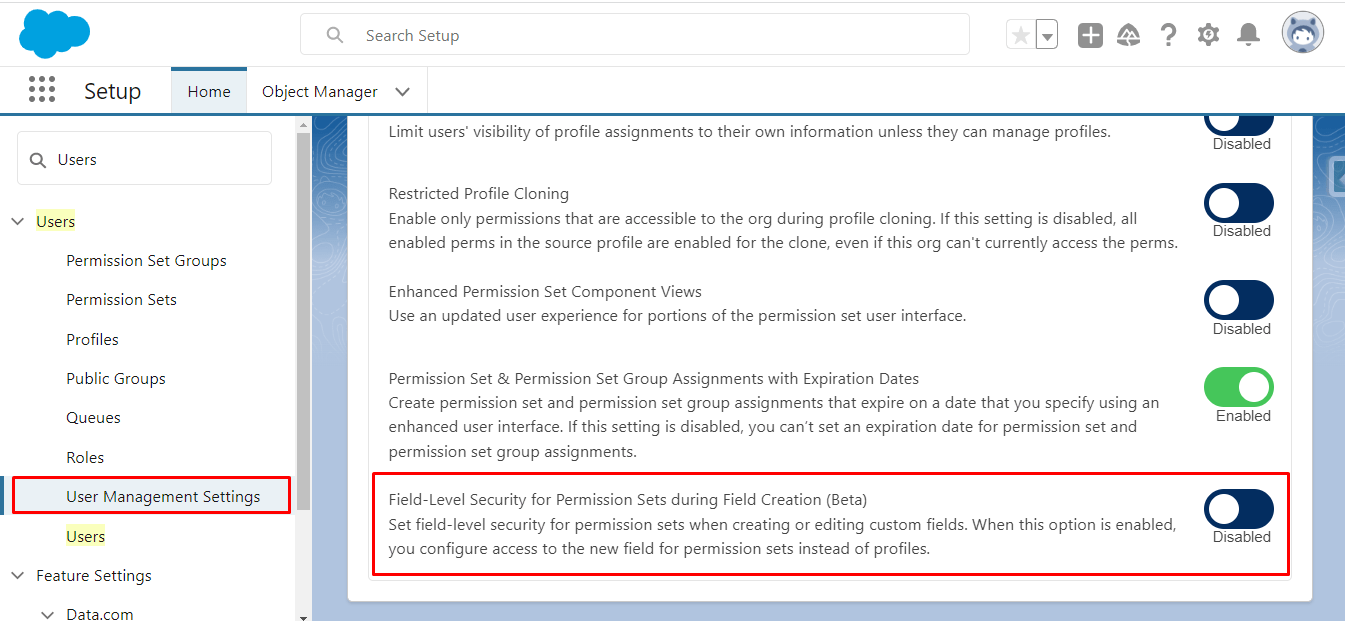 Know more about the other Salesforce summer releases, Salesforce Summer Release 2023- Key Features for Developers.