Why ActiveCampaign Integration
Add ActiveCampaign forms to your WordPress site
By adding ActiveCampaign forms to pages and posts, we can collect tracking and contact information directly from CRM and we can adjust the automatically receive emails, newsletters to be sent weekly, and we can submit our product information based on their subscription details.
Track the activity of your contacts on your WordPress site
We can track our visitor activity on our website and find out which products and services they are most interested in, and then we can create tracking emails for you at ActiveCampaign.
Add live chat to your WordPress site
The Conversations live chat tool lets you capture leads and create contacts directly on your website, and gives your customers a better experience.
Install ActiveCampaign
Login to your WordPress site.
Click "Plugins" in the sidebar.
A list of plugins will load, look for the plugin titled "ActiveCampaign" and click the "Install Now" button.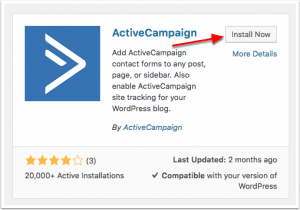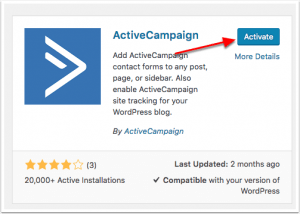 Setting Up ActiveCampaign
From your WordPress left sidebar, Go to Settings -> ActiveCampaign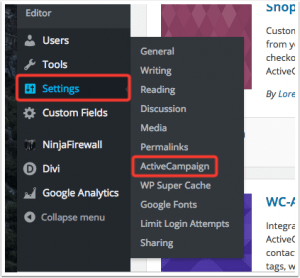 Now, in a new tab, open your AC account, Settings -> Developer -> API Access, there you can see API URL and API Key, Copy them and paste into WordPress settings and then click on the Connect button.

Now, select forms to display locally on your website and Enable Track by default and hit the update button.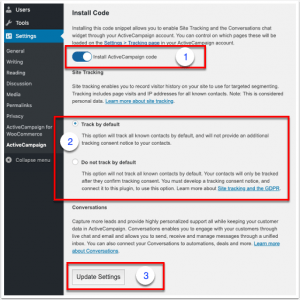 You can use this link to install the ActiveCampaign Plugin.
Insert forms into your WordPress posts/pages
You have installed and configured your Active-Campaign plugin, now you can start inserting Active-Campaign forms into your WordPress posts/pages.
When you create or edit a page or post, you'll see the blue AC icon  in the toolbar:

Place the cursor where you want the form to appear and click the AC  logo, a list of forms you created will open, select the ones you want to display.
See here to learn more about Wordpess: